Welcome to Communication Science and Disorders
Elizabeth Carrow Woolfolk, PhD
Announcing the passing of Elizabeth Carrow Woolfolk, PhD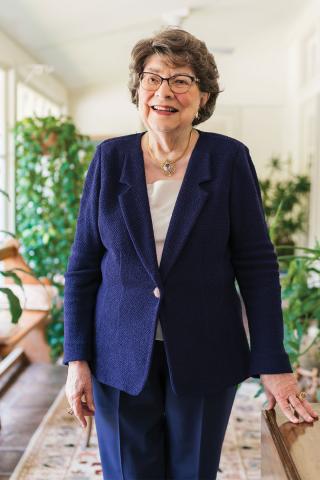 Elizabeth Carrow Woolfolk was a young speech pathologist working in San Antonio when she had her first breakthrough with a patient, a 3-year-old boy she taught through pictures and repetition to discover meaningful language — the beginnings of a 50-year career in which she broke new ground in language theory and assessment and gave voice to millions.
A communications trailblazer, Woolfolk died in her Houston home on Tuesday. She was 94.
"I had the distinct privilege of working with Betty for the last four years, and I will sorely miss her," said Rajinder Koul, chair of The University of Texas at Austin's Department of Speech, Language, and Hearing Sciences. "Betty's research has made a worldwide impact on the lives of millions of children and adults with communication disorders. She was a pioneer in many ways, and her contributions to advancing speech and language science and clinical practice will be recognized for many decades to come."
Carrow Woolfolk earned her master's degree in educational psychology at UT Austin and a doctorate in speech pathology from Northwestern University, where she was the first female doctoral candidate. She went on to establish the Harry Jersig Speech and Hearing Center in San Antonio, one of the first freestanding university speech and language clinics in the country, before returning to UT to lead what was then the speech pathology and audiology program.
Carrow Woolfolk's contributions to the Moody College of Communication are innumerable. A chairperson for the Department of Speech, Language and Hearing Sciences and board member for the college, she devoted her life to improving diagnosis and treatment of children and adults with language disorders. Her philanthropy has allowed for the creation of the Woolfolk Center for Research in Language Disorders at UT, where researchers will establish a comprehensive database dedicated to answering and understanding language disorders across a lifespan.
Carrow Woolfolk is most known for developing several widely used speech and language standardized tests to assess children and adults with language impairment. In addition to her numerous contributions to UT, she also established speech pathology services at Methodist, St. Luke's and Texas Children's Hospitals in Houston and authored more than a dozen books.
"The essence of life is communication," Carrow Woolfolk often said. She had sincere empathy for those who were unable to speak or convey their thoughts and ideas, which made her forever strive for progress.
Read more about Carrow Woolfolk's work and contributions on the Moody College of Communication website and in the Texas Leader.
Funeral service information is available online.
Communication disorders encompass a wide variety of problems in speech, language, and hearing.
Speech and language impairments include voice disorder, articulation problems, fluency problems, aphasia, phonological problems, and delays in speech or language. Hearing impairments include partial hearing and deafness. We teach students to understand and treat these challenges throughout the entire lifespan of human development from early childhood through the elder years and encourage them to develop a holistic understanding of the communication process and to investigate new ways to expand the mind's potential to formulate, absorb, and express ideas. We are consistently ranked one of the top programs in the United States. For example, the most recent version of US News and World Report ranked Speech and Language Pathology #10 and Audiology #14.
---
Contact Information
SLHS Departmental General Info
Phone: (512) 471-4119
Fax: (512) 471-2957
SLHS Graduate Office
Phone: (512) 471-2385
UT Speech & Hearing Center
Phone: (512) 471-3841
Fax: (512) 232-1804