The Aphasia Research and Treatment Lab (ARTlab), under the direction of Maya Henry, PhD, CCC-SLP, is housed in the Department of Speech, Language, and Hearing Sciences, in the Moody College of Communication at The University of Texas at Austin. Research in the lab is directed at improving our understanding of how the brain supports speech and language processes and how targeted treatment programs may improve communication impairments caused by stroke or neurodegenerative disease. The lab utilizes current approaches in cognitive neuroscience, neuroimaging, and cognitive rehabilitation to address these issues. Read more about Dr. Henry and the ARTlab here.
---
Translating Cognitive Neuroscience into Clinical Intervention
---
What is aphasia?
Aphasia is an acquired impairment of language caused by damage to the brain. It can be caused by a stroke, a neurodegenerative process such as Alzheimer's disease or frontotemporal dementia, or a head injury.
Is there help available for people with aphasia?
Yes! In fact, a growing body of treatment research indicates that targeted behavioral treatments can improve communication skills in individuals with aphasia with both functionally meaningful and lasting effects.
---
Participation through Teletherapy
---
At the UT Aphasia Research and Treatment Lab, we offer both in-person and teletherapy-administered treatment. This allows participants from all over the country to enroll and participate in our treatment studies. With teletherapy, we have seen that distance participants reap comparable benefits relative to their in-person counterparts. Please reach out to us via phone, email, or our participate link to find out if teletherapy is right for you.
---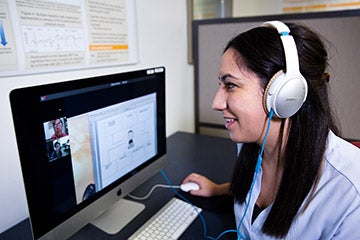 ---

Ways to Participate
---
Individuals with Aphasia or PPA
If you or a loved one has had a stroke or been diagnosed with a neurodegenerative disease affecting language and cognition, complete the form below to request an evaluation to participate in onoing treatment research. Se habla Español.
Healthy Participants 
For healthy individuals interested in volunteering to participate as subjects in ongoing research, contact us below.